Switchgears, Motor Control Centers and Distribution Panels are critical components in energy distribution for large buildings and facilities. Here at Electbus, we manufacture custom made products for indoor or outdoor use that can adapt to any need while following national and international standards. We have a board spectrum of measuring, protection and other components to equip our panels and fulfil the requirements of any project. Our line of products includes:
High power switchgears
Motor Control Centers (fixed or draw-out)
Manual or automatic transfer switches (ATS)
Industrial panel boxes
Distribution panels

Residential
NLAB Type
NAB-NHB Type
CCB Panels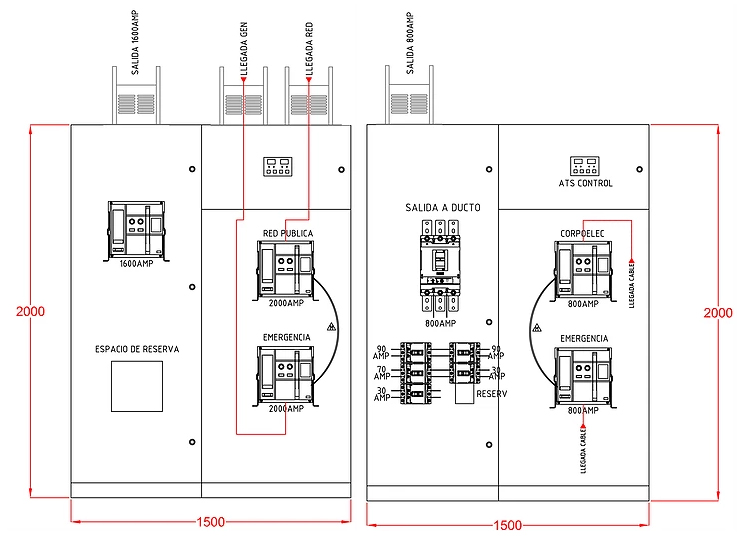 Technical Specs
Voltage Level: 1.000VAC Max
Rated Current: 6300Amp Max (per circuit)
Enclosure: IPXX as per requirement
The equipment that is manufactured by electbus is submitted to routine test or any especific special test (under request) prior to shipment, in order to guarantee the correct and long-lasting functioning of the project.
Los Centros de Potencia, Centros de Control de Motores y Tableros de Distribución en Baja Tensión son elementos fundamentales en la distribución de energía eléctrica para grandes edificaciones. En Electbus, fabricamos equipos a la medida para uso interior o exterior según la necesidad del cliente. Se cuenta con una amplia gama de componentes de medición y protección para equipar, según la necesidad del proyecto. Nuestra línea de productos incluye:
Centros de Potencia
Centro de Control de Motores (de cubículos extraíbles o fijas)
Tableros de transferencia manual o automática (ATS)
Cajas industriales y de paso
Tableros de distribución

Residenciales
Tipo NLAB
Tipo NAB-NHB
Tableros CCB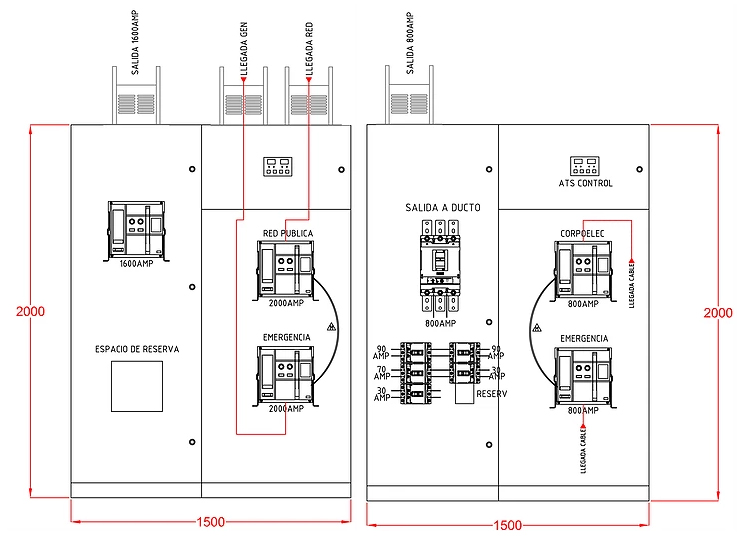 Especificaciones Técnicas
Nivel de Tensión: 1.000VAC Max
Nivel de Corriente: 6300Amp Max (por circuito)
Nivel de Cerramiento: IPXX según requerimiento
Los equipos fabricados por Electbus son sometidos a pruebas de rutina, o cualquier prueba especial bajo pedido del cliente, para garantizar así, el correcto y prolongado funcionamiento en todos nuestros proyectos.